| | | |
| --- | --- | --- |
| Back To Front Page | | |
Thick Binding Post Rubber Covers
For TA-312/PT and TA-1/PT Field Telephones

Price: $15.00
Includes 2 single (1 pair) Red covers. 10 Black (total of 5 sets) of New, mint condition Rubber Protective Binding Post Covers for the US Army Signal Corps TA-312/PT, TA-312A/PT, TA-43/PT and TA-1/PT Field Telephone; this are OEM (original equipment manufacture) or in other words exact replacements for these phones; Difficult to find replacement item. Fits the binding posts for the later digital TA-1042/AU, TA-954/TT, TA-035/U, TA-838/TT and also the older GRA-39 Remote Binding Posts


The TA-312, TA-43, and the TA-1 generate 90 to 100 volts Ringing Power at 20 cycles. Touching these unprotected binding posts during outgoing or incoming ringing power electrical surge is dangerous and can be injurious. The rubber protective covers prevents shock by inadvertent contact during this ringing phase.


See "Other my Items for sale here" for the TA-312/PT and the TA-1/PT Binding Post Terminals Replacement listing, which incorporates also gray plastic mounts.
Shipping Costs: $2.70 for Standard USPS shipping of 3-4 Days. Unless you want me to go for 2-3 Priority Shipping for small flat rate box: $5.35 and Delivery Confirmation .75cents for a total shipping of 6.10.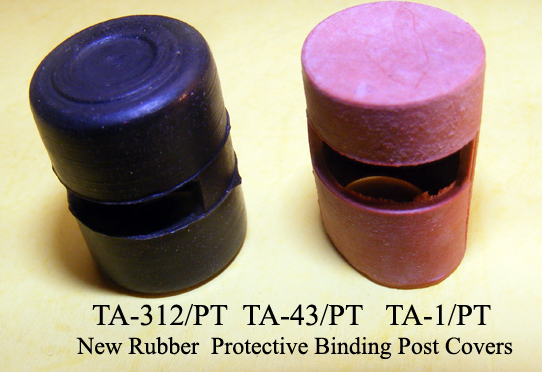 Item 6:Binding Post Rubber Covers
black or red
| | | |
| --- | --- | --- |
| Back To Front Page | | |