| | | |
| --- | --- | --- |
| Back To Front Page | | |
TM 11-5805-262-35 SB-22/PT Switchboard Technical Manual

Price: $12.95
Item 34
Conditon: New
Shipping Costs: $2.40 for Economy Standard USPS shipping of 3-8 Days. Will accept combined shipping.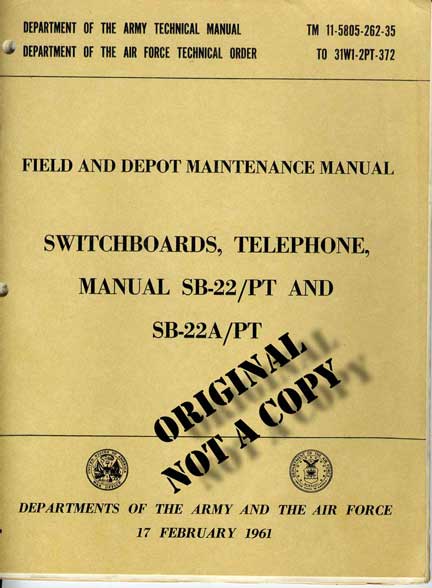 This is an original Technical Manual dating back to 1961 -- not a copy.

This manual delineates the diagnostics and repair procedures for the TM 11-5805-262-35 SB-22/PT Switchboard Technical Manual. It also provides INDEPTH disassembly or exploded views of component diagrams. This is a very thorough "how to" service and repair manual. For those who are are familiar with the different operational and service manuals with the prefix "35" or the highest designation level-category Depot level maintenance, this is the "bible" of repair manuals for the SB-22/PT Switchboard.

Look at the TABLE of Contents depicted here below. You will see that this manual provides more useful information than other current Technical Manuals -- definately a must have.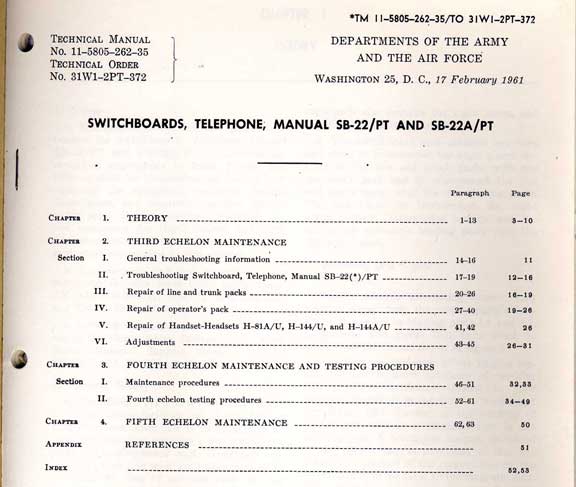 ---
---
These two are examples of the disassembled/exploded view of Headset, Line Pack, and Operator's Pack; there are other exploded views of the SB-22/PT's major components: Extremely useful!
---
| | |
| --- | --- |
| | |
| Other examples of Diagnostic Information: | |
| | | |
| --- | --- | --- |
| Back To Front Page | | |