| | | |
| --- | --- | --- |
| Back To Front Page | | |
H-60/PT Handset

For TA-312/PT and TA-43/PT Field Telephones

5965-00-669-9145
Price: $29.95
Exellent used Condition H-60/PT Handset with a new CX-2151/U Electrical Cord Assembly, a new Push to Talk switch rubber protective cover and all internal components for both the TA-43/PT ta-43, ta43, or the TA-312/PT TA-312A/PT, ta43 military field telephone. Difficult to find replacement item in a garanteed operational tested condition. Note: I emphasize that this H-60/PT handset has all the internal components and tested operational ready for installation.


Military Radio Handset H-60/PT With Integral Push to Talk Switch Frequency Range: 500 Hz to 3,200 Hz Receiver Frequency Range; 300 Hz to 3,000 Hz Microphone Resistance : 35 ohms 6 foot retractible Cord Rugged for use in extreme environmental conditions




Shipping Costs: $9.00 for Economy Standard USPS shipping of 3-8 Days. Will accept combined shipping.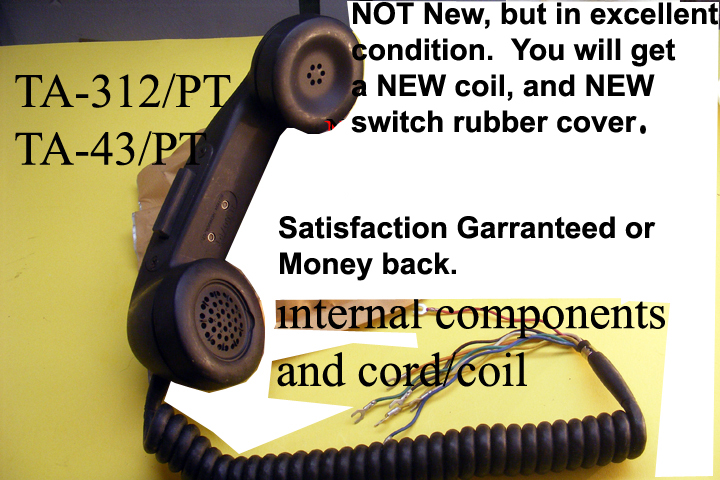 Item 19: H-60/PT Handset

| | | |
| --- | --- | --- |
| Back To Front Page | | |