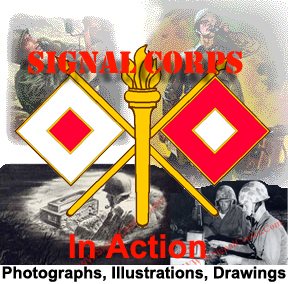 I need input, please. If you have photographs/images of Signal Corps/Communications related photograph memorabilia during Vietnam, Desert Storm and currently Iraq and Afganistan, I would appreciate if you allow me to display them on this website as part of the gallery. Of course, I would credit them to the approriate source -- e-mail me: petemtz@hot.rr.com


This is my virtual art gallery. These images memorabilia are not for sale, and to the best of my knowledge are original material: I've always wanted to post all the Signal Corps images of wiremen, signal flag semaphore "wig waggers", and those cool, artistic posters, pictures, drawings and paintings that were illustrated in America's Iconic magazines. Over the years I have accumulated a bunch. I have more to post, as I have time. I want to share these. However, since I did pay a fee for these from different sources, including many from EBAY, I'm overlaying them with this websites markings -- the purpose is to discourage copying.

Where it's obviously clear of its origin, crediting is unnecessary, where it's not, I will do my best to note or annotate it. Important here is I want to give deserved credit where it's due. If you find an item here that you think needs credit clarification, please contact me with the appropriate source; I would appreciate it. If I need to "cease and desist," on posting any particular one, please contact me. I have not consulted any legal copyright authority, and of course want to avoid any adverse legal issues.

On a couple of these images, I purchased the photograph on EBAY, assuming I was getting the original magazine page; It was not. I didn't read the fine print, although it did have a "certification that it was from an original;" I wasn't happy. Thank you.
---
Click on the image for a larger view
| | | | | |
| --- | --- | --- | --- | --- |
| | "Where SKILL and COURAGE count" | Circuits of Victory! | Two U.S. Marine Corps Soldiers operating a SB-22/PT Switchboard at Camp Pendleton, California. | Two Officer Candidates,WACS, during communications training at Fort McClellan, Al |
---
| | | | |
| --- | --- | --- | --- |
| A WWI Signal Corps Soldier, with a Semaphore Signal Flag: | WWWI Wireman in battle field action: | A U.S. Marine Corps Wiring Network Maze | Two U.S. Army soldiers recovering a SB-22/PT switchboard |
---
| | | | |
| --- | --- | --- | --- |
| U.S. Army soldier on a telephone pole | U.S. Army Signal Corps Soldiers ... message through | U.S. Army Signal Corps Soldier ... Going is Toughest | U.S. Army Signal Corps Unit ... beats ring of death |
---
| | | | |
| --- | --- | --- | --- |
| | | | U.S. Marines at Bouganville |
---
U.S. Army soldier
"Infantry ... E-88 Commo"


---